Discover new sources of energy, like your coworkers.
As New England's largest energy delivery company, we're always searching for better ways to serve our customers and power the communities we serve. Yet it's our employees, working together, that truly fuel our mission.
Awards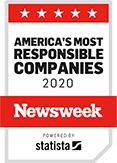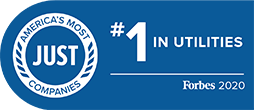 In recognition of our unyielding commitment to customers, communities, employees, and the environment, Eversource is being nationally celebrated as one of America's Most JUST Companies for 2020 according to Forbes and JUST Capital. We ranked as the number one utility on the annual top-100 list, which celebrates publicly-traded American corporations for their positive impact and leadership on top priorities identified by the American people such as fair pay, ethical leadership, good benefits and work-life balance, equal opportunity, customer treatment and privacy, community support, environmental impact, and delivering shareholder return.
We're excited to share that our commitment to the communities we serve and corporate responsibility has earned us the #1 energy and utility spot in Newsweek's list of America's Most Responsible Companies.