Energize your future by learning, leading, and succeeding.
College. Make the most of your future and education by discovering all Eversource has to offer. We have relationships with some of the best colleges and universities in New England and beyond. Join us and learn how you can tap into your full potential while achieving real-world experience, results and success through one of the following programs. And, if you are hired as a full time employee, you may be able to participate in our Tuition Reimbursement Program to continue your education.
Explore These Student Programs
Co-ops & Internships
Co-ops & Internships
Eversource offers students the opportunity to learn about the utility business while gaining hands-on experience in a real work environment. As valued members of our team, co-ops and interns are revered for their fresh outlook, unique problem-solving skills and energetic contributions.
Every co-op and intern is exposed to a variety of projects and tasks to foster career development, personal achievement and success at Eversource. Positions are available in Connecticut, Massachusetts and New Hampshire.
Here's What One of Our Recent Co-op Students Had to Say:
During my time at Eversource, I was not only able to learn but also to contribute through working on different projects. I was always able to share my thoughts and opinions. It is a great working environment with great people who are always willing to help you learn and achieve more.
Eversource's Co-op & Internship Program
Work assignments that provide both learning and work experience for students interested in Accounting, Energy Efficiency, Engineering, Environmental, Legal, Marketing, Operations, Sales and Procurement
Social opportunities at gatherings and training activities that provide networking opportunities to meet other students
Opportunities to network with full-time employees, senior management and seasoned professionals in your field of study
Most positions are paid, some are for credit only
As an intern or co-op at Eversource, you will receive challenging, meaningful work that will allow you to apply your academic coursework to the real work environment.
To provide knowledge and guidance, all co-ops and interns are assigned a mentor—an experienced employee who can offer coaching, feedback and valuable business insight.
Program Requirements:
Academic major must relate to applicable co-op or internship
Leadership and problem-solving skills
Involvement in extracurricular activities is preferred
Work availability of at least 10 to 12 weeks for internships and six months for co-ops
Legally eligible to work in the United States
Electric Power Utility Technology Program
Electric Power Utility Technology Program
Eversource has partnered with the Local 369 Utility Workers Union of America, Local 12004 United Steel Workers Union and Bunker Hill Community College to offer the Electric Power Utility Technology Program for applicants living in and around the Boston area.
This accredited Associate of Science degree program includes the following:
Two years of academic, technical, and onsite training, along with a certificate in natural gas technology.
A minimum of 10-12 weeks of paid cooperative work experience per semester over two years
Potential future employment opportunities as an electric or gas utility worker for successful graduates who meet all program requirements
Please contact us at 781-441-8300 or eput@eversource.com for more information.
EPUT Description
Designed to prepare students for employment in a variety of electric and gas related position; students will complete coursework in Algebra, College Writing, DC Circuit Theory and various laboratory assignments.
Students are required to maintain grades of C or better in all courses throughout the program.
Eversource Provides tuition assistance to enrolled students up to $600 a semester. Students also have the opportunity to participate in summer internships- starting at $13 an hour for the first year and $14 an hour the second. Interns will be provided brand new protective eye wear (prescription lenses are covered), steel toed boots, fire resistant clothing and a hardhat.
Graduates meeting necessary criteria will have the opportunity to interview with Eversource for a job. Positions start at approximately $30 an hour with great opportunities for advancement in the company.
For more detailed information on this career opportunity, please read the EPUT Program Brochure and attend an information session. Dates and details can be found at bhcc.edu/eput/
More information about the 2021 program coming soon.
A Journey To Full-time Employment: EPUT Program
Chris started in the EPUT program and has worked in a variety of business areas. He is currently a Distribution Support Technician in our Gas business. It may be a long holiday break between semesters for most traditional college students, but it's co-op season for students in our Eversource Electric Power Utility Technology (EPUT) Program.
Chris graduated from EPUT and works in the Gas Division
It's one thing to know you don't want a desk job— but quite another to pick up a shovel and dig deep to find a career that's the right fit for you. Here, an apprentice in our Electric Power Utility Technology (EPUT) Program is getting valuable "on the job/street" training in Cambridge, MA.
Nick graduated from EPUT and works as an Underground Lineworker
Natural Gas Field Technician Program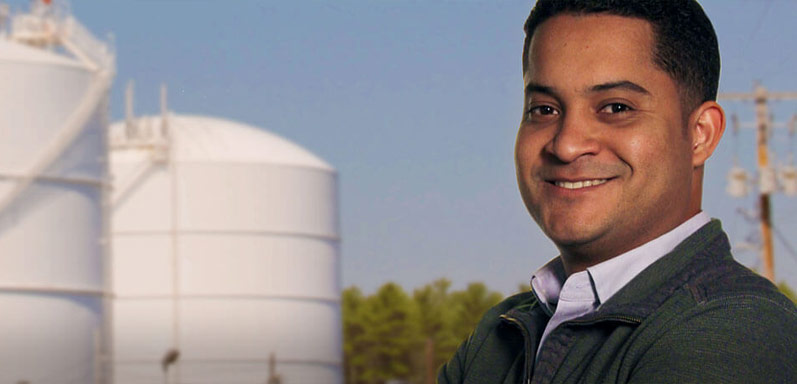 Natural Gas Field Technician Certificate (CT BASED)
PROGRAM OVERVIEW
The Natural Gas Field Technician Certificate program is a partnership with Eversource Energy and Middlesex Community College.
The natural gas industry is experiencing tremendous growth in meeting and serving the energy demands of homeowners, businesses, and municipalities across Connecticut. Expanding access to natural gas and accelerated replacement programs has driven a higher demand for skilled resources to construct, maintain, and service the natural gas infrastructure.
Middlesex Community College is partnering with Eversource Energy to deliver a program specifically designed to help develop the future workforce needed in this growing field. Experienced natural gas industry instructors will teach classes at the Eversource training facility in nearby Berlin, CT. Students will develop the fundamental skills required to safely and efficiently install and maintain gas distribution facilities, including the proper use of tools and equipment. They will also build a strong working knowledge of approved industry practices. Working in the natural gas industry is a physically demanding job encompassing a variety of physical tasks, including bending, twisting, lifting, digging, and carrying equipment.
As a selective admissions program, students must follow the application process and meet all deadlines. Applications close on May 15, 2019.
For more information, please see Middlesex's Certificate Program
Electrical Lineworker Pre-Apprentice Certificate Program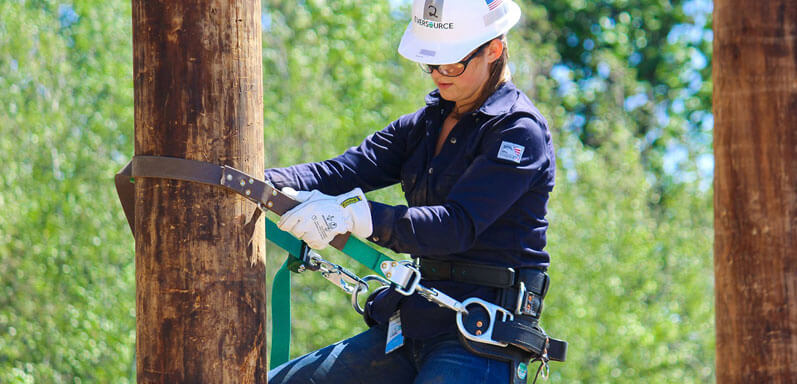 Electrical Lineworker Pre-Apprentice Certificate Program
Eversource, in partnership with New Hampshire's Manchester Community College, the International Brotherhood of Electrical Workers (IBEW) Locals 104 and 1837, and the National Electrical Contractors Association (NECA), now offers a certificate program that will prepare graduates for a lineworker apprenticeship leading to careers in the electric power industry.
The hands-on certification program will include in-classroom learning and laboratory courses at local training facilities. Students will complete course work, including electrical theory, basic math, communications, CPR and safety. Courses will prepare students for employment in a variety of electrical fields, with an emphasis on electrical lineworker responsibilities and tasks.
Upwardly Mobile Opportunities
In addition to the in-classroom coursework, students will learn how to climb a utility pole, as well as how to use equipment and tools to safely complete overhead and underground construction. During curriculum breaks, students will complete a paid internship with Eversource or an IBEW contractor. Prospective students will be required to pass a placement test and a physical fitness exam in order to qualify for enrollment.
Graduates of the Pre-Apprentice Certificate Program may also transfer credits to Manchester Community College's Electrical Technology or Technical Studies associate degree programs. Program highlights include:
25 credit hours, to be completed consecutively over a two-semester period
Academic courses at Manchester Community College in NH
Hands-on training at Eversource and IBEW facilities in New Hampshire
Training internship with Eversource and/or an IBEW contractor
Enrollment is limited.
Transmission Rotational Cohort Program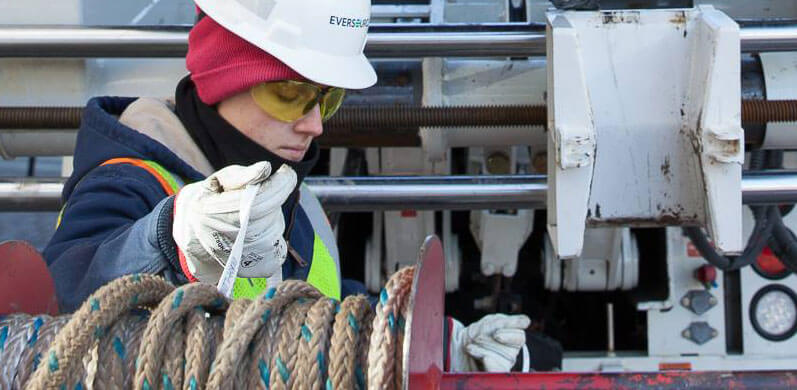 Transmission Rotational Cohort Program
The Transmission Cohort Program is an 18-month rotational program designed to provide individuals hired with an opportunity for career development, training, and varied work experience. The program provides each individual an opportunity to gain experience working in areas of the Transmission business such as:
Transmission Project Management
Transmission Siting & Construction
Transmission ISO Policy
Transmission Compliance
Field Engineering
Transmission Project Controls
Individuals will be assigned a mentor for development and coaching while working in their developmental assignments. He/she will receive business area briefings and technical training to prepare for a successful career in Eversource's Transmission Business.
Education, Qualifications and Experience:
Requires a Bachelor's Degree in Engineering, Computer Science, Business, Communications or related degree. Zero (0) to three (3) years' related experience required. Proficient computer skills and good written and verbal communications skills plus good analytical skills are a must. Must be able to work in a team environment, hold a valid motor vehicle operator's license and be authorized to work in the US without sponsorship.
We are an award winning Fortune 500 company that provides competitive salaries and benefits, including medical, dental, vision, prescription benefits, life, AD&D, disability insurance, outstanding retirement plans and paid time off.
Working Conditions:
Must be available to work emergency restoration assignment as required.
Must be available to travel between MA/CT/NH as necessary
Ability to travel to field locations