Director, Emergency Preparedness
02/10/2023
Locations Southborough, Massachusetts; Berlin, Connecticut; Westwood, Massachusetts
Overview
If you are looking for a hands-on career or the opportunity to lead a team, then Operations may be for you. We are the main source of providing our customers with the essential product that makes their lives easier—power. Whether you're working with electricity or natural gas, you'll use your mechanical skills in a hands-on job and deliver results to our customers on a daily basis. You'll work collaboratively with a variety of people and departments and learn about different parts of the business while making a big impact for our customers and communities. You'll receive a variety of training to help you learn how to do your job safely. Training includes classroom instruction, e-learning, field simulations and on-the-job learning with a peer coach.
Job Level - Entry, Mid,
Senior, Executive
Travel between CT/MA/NH
may be required
About us
We are Eversource
At Eversource, our mission is to safely deliver reliable energy and superior customer service to our electric, natural gas and water customers across New England. We do this ethically, respectfully and honestly to meet the expectations of our customers, regulators and ourselves.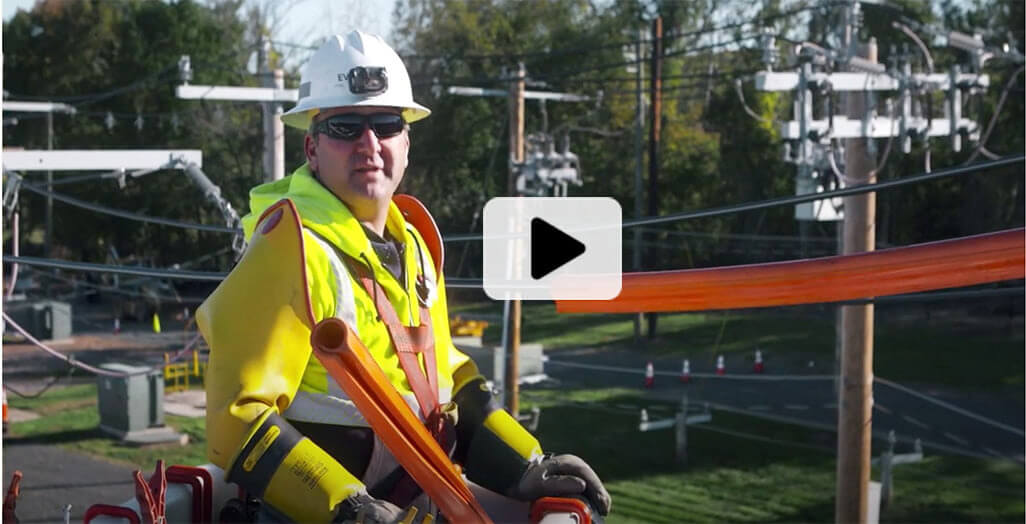 Success Profile
What makes a successful Electric Operations team member?
Check out the top traits we're looking for and see if you have the right mix.
Collaborative
Focused
Team Player
Adaptable
Detail Oriented
Positive
Culture
We are dedicated to our employees and customers
Safety is a core value at Eversource
We live out our mission of delivering reliable energy
We are committed to creating an inclusive workplace where all employees, customers and stakeholders are respected and valued
Career Path
Entry Level

DO NOT FORGET TO ADD ACCESSIBILITY TEXT

Skilled Craft Worker

DO NOT FORGET TO ADD ACCESSIBILITY TEXT

Crew Leads

DO NOT FORGET TO ADD ACCESSIBILITY TEXT

Foreman

DO NOT FORGET TO ADD ACCESSIBILITY TEXT

Supervisor

DO NOT FORGET TO ADD ACCESSIBILITY TEXT

Manager

DO NOT FORGET TO ADD ACCESSIBILITY TEXT

Director

DO NOT FORGET TO ADD ACCESSIBILITY TEXT
Job Description
Director, Emergency Preparedness
02/10/2023
Locations: Southborough, Massachusetts; Berlin, Connecticut; Westwood, Massachusetts
Role and Scope of Position:
The Director, Emergency Preparedness is responsible for all aspects of emergency preparedness and continuity of operations. This includes, but is not limited to, events attributed to major weather storms, municipal, state or federal emergencies, infrastructure emergencies (i.e., black start, network restoration, loss of SCADA/Communications) and business continuity emergencies (i.e., work stoppage). This position provides strategic leadership during all phases of emergency preparation and response. Develops plans and directs the implementation of various EP plans. Builds relationships with municipal, state or federal government officials as well as with Mutual Aid and external contract resources.
Essential Functions: 
Directs the Emergency Preparedness team to ensure consistent and efficient plan execution.
Develops and designs strategic contingency and disaster emergency preparedness and restoration plans to minimize casualties and damage from natural disasters, major accidents, and municipal, state or federal emergencies. Directs the coordination of actions to allow continuation or restoration of vital functions and operations
Directs the development and implementation of all emergency plans and training /drills.  Reviews documents and reports regarding compliance/non-compliance issues and develops improvement plans.
Develops and directs the implementation of Eversource's Emergency Preparedness strategies and practices.  Ensures all emergency plans are compliant with regulatory filing and training requirements
Develops and implements practices to achieve efficient and effective restoration of service and communication during emergencies on the transmission and distribution systems.
Directs the development and implementation of long and short-term emergency preparedness planning efforts and goals
Directs the development, maintenance, and implementation of new and revised operating and maintenance procedures, as well as construction, material, and tool equipment standards. 
Oversees and manages the standardization of policies and procedures across the company.
Develops and manages department budget necessary to implement policies, programs and initiatives.
Technical Knowledge/Skill/Education/Licenses/Certifications:
Technical Knowledge/Skill:
Thorough understanding of transmission and distribution issues and activities within the electric utility industry
Extensive knowledge in trouble systems and understanding of strategic and tactical planning
Knowledge of the Homeland Security Incident Command System (ICS)
Excellent communications and presentation skills leading cross-functional teams
Education:
Bachelor of Science Degree in Engineering, Business, related discipline or equivalent experience
MS in Emergency Management, Engineering or MBA preferred                
Experience:  
Twelve (12) years related experience in operations and emergency planning, including previous managerial/supervisory experience.                        
Licenses & Certifications:
Working Conditions:
Must be available to work emergency restoration assignment as required.
Must be available to travel between MA/CT/NH as necessary.
Electric: #elecajd
Worker Type:
Regular
Number of Openings:
1
EEO Statement
Eversource Energy is an Equal Opportunity and Affirmative Action Employer.  All qualified applicants will receive consideration for employment without regard to age, race, color, sex, sexual orientation, gender identity, national origin, religion, disability status, or protected veteran status.
VEVRRA Federal Contractor
Vaccination Information:
Eversource requires all new employees to be fully vaccinated for COVID-19 by their first day of employment. If you have any concerns regarding compliance with this requirement, you will need to discuss your concerns with Eversource's HR department after you have been made a conditional offer of employment. Eversource does not require applicants to discuss vaccination status prior to receipt of a conditional offer of employment and complies with all applicable laws.
Emergency Response:
Responding to emergency situations to meet customers' needs is part of every employee's role. If employed, you will be given an Emergency Restoration assignment.  This means you may be called to assist during an emergency outside of your normal responsibilities, work hours and location. 
Apply
Benefits
Eversource employees are committed to providing reliable energy and superior customer service—and that's why we are committed to providing our employees with a highly competitive total rewards package. In addition to wages and salaries, the benefit programs Eversource offers its employees and family members are a significant part of the total rewards.
Healthcare, Wellness & Disability Protection for you and your Family
Comprehensive Medical, Prescription, Dental, and Vision Plans, choose the coverage that is right for you and your family
High deductible health plan option, with generous health savings account (HSA), employer contribution, ($500 individual; $1,000 employee +1 or more)
Company-paid employee life and accident insurance and options to purchase additional coverage for you and your family
An award-winning Wellness Program provides up to $200 annually for employees and spouses to adopt and maintain healthy lifestyles
Health and Dependent care reimbursement accounts
Sick Time, Short-Term & Long-Term Disability Plans
Work/Life Balance Benefit Programs
Employee Assistance Program (EAP)
Multi-faceted Behavioral Health Program
Care@Work Program (child/elder care), membership/stipend for emergency services
Adoption Assistance (eligible employees)
Tuition Reimbursement, Student Loan Refinancing & Student Debt Counselling
Voluntary benefits platform to access discounted home & auto, identity protection and pet insurance
Charity donation gift matching
Volunteer hours at local charities with rewards to our Wellness Program
Generous time off
Business Resource Groups for social connection and career development
Retirement Benefits for a Secure Future
401k: Up to 100% Employer Match on first 3% of employee's contributions
K-Vantage: Additional Employer Contribution to the 401k based on age and years of service (2.5% to 6.5%)
Med-Vantage HRA: Age 40+, receive annual $1,000 contribution to an HRA for post-employment qualified medical expenses