Supervisor, Electric Operations Development Program, Substations Operations (Hooksett, NH)
02/07/2023
Locations South Hooksett, New Hampshire
Overview
If you are looking for a hands-on career or the opportunity to lead a team, then Operations may be for you. We are the main source of providing our customers with the essential product that makes their lives easier—power. Whether you're working with electricity or natural gas, you'll use your mechanical skills in a hands-on job and deliver results to our customers on a daily basis. You'll work collaboratively with a variety of people and departments and learn about different parts of the business while making a big impact for our customers and communities. You'll receive a variety of training to help you learn how to do your job safely. Training includes classroom instruction, e-learning, field simulations and on-the-job learning with a peer coach.
Job Level - Entry, Mid,
Senior, Executive
Travel between CT/MA/NH
may be required
About us
We are Eversource
At Eversource, our mission is to safely deliver reliable energy and superior customer service to our electric, natural gas and water customers across New England. We do this ethically, respectfully and honestly to meet the expectations of our customers, regulators and ourselves.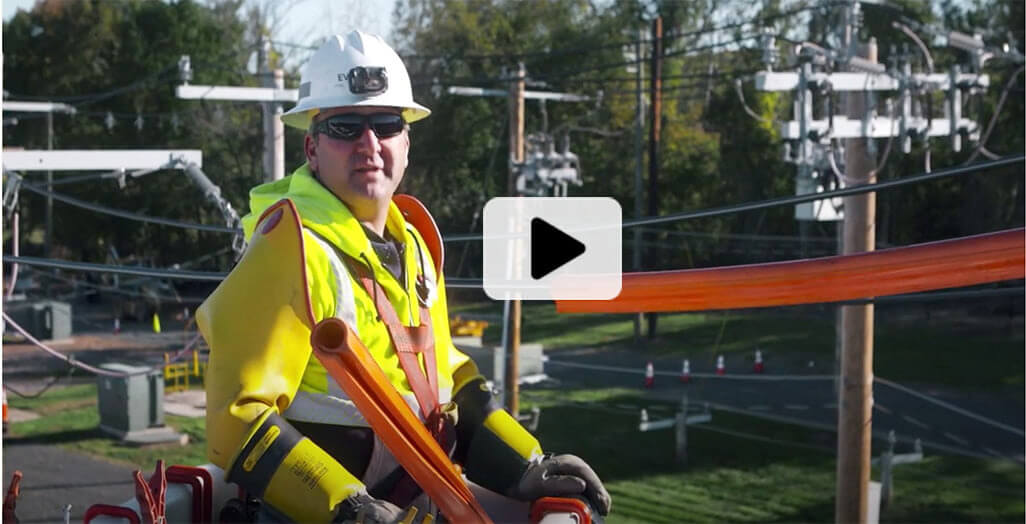 Success Profile
What makes a successful Electric Operations team member?
Check out the top traits we're looking for and see if you have the right mix.
Collaborative
Focused
Team Player
Adaptable
Detail Oriented
Positive
Culture
We are dedicated to our employees and customers
Safety is a core value at Eversource
We live out our mission of delivering reliable energy
We are committed to creating an inclusive workplace where all employees, customers and stakeholders are respected and valued
Career Path
Entry Level

DO NOT FORGET TO ADD ACCESSIBILITY TEXT

Skilled Craft Worker

DO NOT FORGET TO ADD ACCESSIBILITY TEXT

Crew Leads

DO NOT FORGET TO ADD ACCESSIBILITY TEXT

Foreman

DO NOT FORGET TO ADD ACCESSIBILITY TEXT

Supervisor

DO NOT FORGET TO ADD ACCESSIBILITY TEXT

Manager

DO NOT FORGET TO ADD ACCESSIBILITY TEXT

Director

DO NOT FORGET TO ADD ACCESSIBILITY TEXT
Job Description
Supervisor, Electric Operations Development Program, Substations Operations (Hooksett, NH)
02/07/2023
Locations: South Hooksett, New Hampshire
Provides leadership for the construction, maintenance, and repair of substation equipment. Analyzes historical inspection, maintenance, test and operational data to establish appropriate maintenance requirements for equipment. Actively promotes and enforces a safety-first work environment and positive safety culture. Engages and motivates employees to deliver the best possible customer experience.
Eversource is a leader in enabling a clean energy future for New England. We are making significant investments in our electric transmission and distribution system to support the integration of clean energy resources such as solar and wind power, electric vehicles, new gas and energy storage technologies. 
We know that our success depends on the best efforts of our engaged team- diverse, talented, and dedicated individuals who take pride in their work and who know and exhibit the value of teamwork and collaboration and support each other in working safely every day.  
We are looking for talented individuals who strive to take their careers to the next level as a electric operations supervisor in substations to help us continue enhancing New England's largest energy delivery system and enabling a Clean Energy Future! Could this be you?
The Supervisor Development Program is a 6-month leadership program designed to provide you with an opportunity for career development, training, and varied work experience to help set you up for a successful career as an Electric Operations Supervisor.  The program combines instructor led leadership and technical trade training.   Every candidate will have an opportunity to enhance their skills by participating in a rotation in which they will immerse themselves in the role of a supervisor and become the next leaders in our service territories in Connecticut, Massachusetts and New Hampshire. 
Location:   Hooksett, NH
The successful candidate will provide technical assistance and overall direction to a team of union-represented trade employees. They will provide leadership to ensure the safe, timely and efficient completion of work efforts relating to the construction, operation, maintenance, and emergency restoration of the electric distribution and transmission systems.  They will help ensure effective coordination between individuals and departments in the district/division.  Our leaders actively promote and enforce a safety-first work environment and positive safety culture, while engaging and motivating our employees to deliver the best possible customer experience.   
Day to Day Functions: 
Accountable for the safe execution of field activities.  Sets safety expectations with employees.  Resolve safety issues/concerns in an appropriate and timely manner.  Communicates safety lessons learned and promotes continuous learning of safe work methods, practices, and procedures. 
Supervises crews in construction and maintenance activities for T&D substations.
Responsible for the reliability and condition of substation assets.
Ensures compliance with regulatory and company policies and procedures.
Sets clear expectations and provides ongoing feedback to employees regarding their performance.  Effectively addresses performance issues.  Conducts comprehensive performance reviews (per applicable bargaining unit contract). 
Responsible for the proper application of local union contracts and agreements.  Works with managers and employees to resolve grievances and concerns in a timely and complete manner.
Demonstrates and role models a customer-first attitude.  Seeks to quickly resolve customer issues by collaborating with employees and other departments.
Fulfills storm duty assignments and participates in on-call rotation as require. 
Mental Aspects:  
Must be able to manage multiple activities simultaneously to meet deadlines and customer requirements.  
 Requires being able to effectively relate to customers and the general public under stressful circumstances and for prolonged periods.
Must be able to clearly articulate job and safety related information to employees and to effectively address performance issues in a constructive manner.   
Requires being able to respond to problem situations in a timely manner at all hours of the day or night. 

Qualifications:
Technical Knowledge/Skills:
Working knowledge of methods, work practices, and procedures regarding the safe construction, operation, and maintenance of electric T&D facilities and infrastructure at both secondary and primary operating voltages is strongly desired. 
Possesses strong analytical and problem-solving skills. 
Education:
Bachelor's degree in electrical engineering or electrical technology preferred or equivalent experience. 
Experience:
Three or more years of related experience is required. 

Experience in operation and maintenance of substation facilities is preferred.
Experience in electrical transmission and distribution is preferred.
Previous supervisory experience is preferred.

Licenses & Certifications:
      Valid Motor Vehicle License required.  D.O.T. Driver's License preferred. 
Working Conditions – This is an on-Site position. Will require travel to MA, CT, and NH for training during this six-month training program.
Must be available to work emergency restoration assignment as required. 
Must be available to travel between MA/CT/NH as necessary.  
Work is conducted outside, in varied conditions and terrain including adverse weather conditions, and in a normal office environment which requires sitting, walking, standing, stair climbing and completion of paperwork.   
Drives to various job site locations and customer premises to supervise work, and review or discuss construction job requirements.   
May work with computers for long periods of time during the day.   
Subject to shift work including weekends.   
Off-hour on-call responsibility is required on a rotational basis.   
At times it requires working long hours in response to outage situations and shift coverage requirements. 
#elecajd
Worker Type:
Regular
Number of Openings:
2
EEO Statement
Eversource Energy is an Equal Opportunity and Affirmative Action Employer.  All qualified applicants will receive consideration for employment without regard to age, race, color, sex, sexual orientation, gender identity, national origin, religion, disability status, or protected veteran status.
VEVRRA Federal Contractor
Vaccination Information:
Eversource requires all new employees to be fully vaccinated for COVID-19 by their first day of employment. If you have any concerns regarding compliance with this requirement, you will need to discuss your concerns with Eversource's HR department after you have been made a conditional offer of employment. Eversource does not require applicants to discuss vaccination status prior to receipt of a conditional offer of employment and complies with all applicable laws.
Emergency Response:
Responding to emergency situations to meet customers' needs is part of every employee's role. If employed, you will be given an Emergency Restoration assignment.  This means you may be called to assist during an emergency outside of your normal responsibilities, work hours and location. 
Apply
Benefits
Eversource employees are committed to providing reliable energy and superior customer service—and that's why we are committed to providing our employees with a highly competitive total rewards package. In addition to wages and salaries, the benefit programs Eversource offers its employees and family members are a significant part of the total rewards.
Healthcare, Wellness & Disability Protection for you and your Family
Comprehensive Medical, Prescription, Dental, and Vision Plans, choose the coverage that is right for you and your family
High deductible health plan option, with generous health savings account (HSA), employer contribution, ($500 individual; $1,000 employee +1 or more)
Company-paid employee life and accident insurance and options to purchase additional coverage for you and your family
An award-winning Wellness Program provides up to $200 annually for employees and spouses to adopt and maintain healthy lifestyles
Health and Dependent care reimbursement accounts
Sick Time, Short-Term & Long-Term Disability Plans
Work/Life Balance Benefit Programs
Employee Assistance Program (EAP)
Multi-faceted Behavioral Health Program
Care@Work Program (child/elder care), membership/stipend for emergency services
Adoption Assistance (eligible employees)
Tuition Reimbursement, Student Loan Refinancing & Student Debt Counselling
Voluntary benefits platform to access discounted home & auto, identity protection and pet insurance
Charity donation gift matching
Volunteer hours at local charities with rewards to our Wellness Program
Generous time off
Business Resource Groups for social connection and career development
Retirement Benefits for a Secure Future
401k: Up to 100% Employer Match on first 3% of employee's contributions
K-Vantage: Additional Employer Contribution to the 401k based on age and years of service (2.5% to 6.5%)
Med-Vantage HRA: Age 40+, receive annual $1,000 contribution to an HRA for post-employment qualified medical expenses